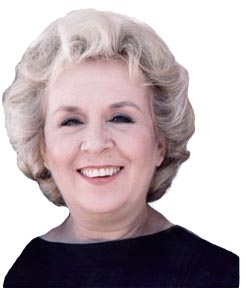 Mildred Krebs, the receptionist for the
Remington Steele Detective Agency
in the series
Remington Steele
, is played by Doris Roberts. She replaced
Murphy Michaels
and
Bernice Fox
after they left the agency (Murphy created his own agency, and Bernice supposedly got married). Mildred's character was introduced in the 2nd season, when she was an IRS agent auditing the mysterious
Remington Steele (character)
. She became the receptionist shortly after tailing Remington to Acapulco where she was put on suspension for not returning to the IRS offices...so she stayed in Acapulco to help Remington and
Laura Holt
, Remington's partner, solve their case. She ended up enjoying it so much that, when she lost he job with the IRS, she decided to stay with the Remington Steele Detective Agency.
Mildred is diligent and quick to complete her share of the legwork. She is often dragged into cases, but her previous experience from the IRS makes her an excellent person to perform background checks or find key information about witnesses, victims and suspects. She really does enjoy her work, and is much more happy at the agency than she was in the IRS.
Ad blocker interference detected!
Wikia is a free-to-use site that makes money from advertising. We have a modified experience for viewers using ad blockers

Wikia is not accessible if you've made further modifications. Remove the custom ad blocker rule(s) and the page will load as expected.